Description
KEY FEATURES
Inactivates Viruses and kills bacteria
98.3% Bacterial Filtration Efficiency (BFE)
BFE of 98.3% as tested by Bureau Veritas (ASTM F 2101-19/BSEN 14683:2019)
High Breathability
Breathability requirement for Masks Pa/cm2 = <40. The Velona Viroblock Mask surpasses this requirement by 2 times with a breathability of <20 Pa/cm2
No Harsh Chemicals
Our Mask does not contain any Harsh Chemical that adversely affects human health.
Formaldehyde – Not detected–(JIS LI041 Test)
Lead – Not detected (SP027 Test)
Safe & Sustainable
The HeiQ Viroblock NPJo3 Treatment has been certified as safe and sustainable as all its ingredients are cosmetic grade, bio-based and recycled.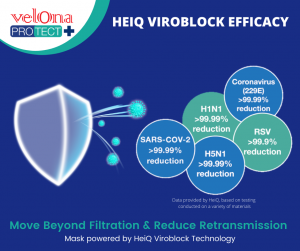 HeiQ Viroblock NPJ03 technology is among the first technologies in the world to be proven effective against SARS-CoV-2 (COVID-19)*
How the HeiQ Viroblock NPJ03 Technology works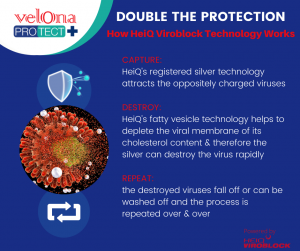 The Velona Protect mask with HeiQ Viroblock NPJ03 technology actively inhibits viruses and kills bacteria upon contact on the surface. As the first step, the silver technology in the HeiQ Viroblock treatment attracts the oppositely charged viruses and binds them permanently to their inherent Sulphur groups. Secondly, the vesicle technology then helps to deplete the viral membrane of its cholesterol content in minutes, thereby allowing the silver to destroy the virus rapidly.